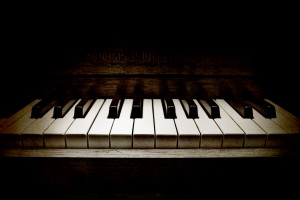 Sarabande
from Drunken Moon
A neo-Baroque dance movement for solo piano.
Category: instrumental
Instrumentation: piano solo
Status: complete
Duration: 3m 15s
Completed: 2006
World Premiere: n/a
Upcoming Performances: n/a
Notable Performances: n/a
Commission: n/a
Dedication: n/a
Additional Credits: n/a
Recordings: n/a
Reviews: n/a
Other Links: n/a
Drunken Moon, a prequel to Arnold Schoenberg's masterpiece Pierrot Lunaire, is "a monologue in two voices": a woman (She) seeking love in a rundown bar, and the man (He) that She meets — or perhaps invents — in her quest for fulfillment.

In addition to seven arias and duets, Drunken Moon includes three instrumental dances: a Waltz (where She and He first see each other on the dance floor), this Sarabande (their first dance together), and a Tango (during which He teases and ultimately abandons Her in favour of another woman).

During rehearsals for the premiere, the pianist asked me what the Sarabande should sound like, and I said "like you just finished a long day at Juilliard practicing Bach, and then came directly to the bar for your night gig". I still think that pretty accurately sums it up: the influence of the great sarabandes of Bach — in particular, the one in the fifth French Suite, which I played as a graduate student — is apparent in the form, voicing, harmonic development, and even content (see if you can pick out the "faux fauxbourdon"), but the piece is also clearly indebted to great jazz pianists like Oscar Peterson and Bill Evans, whom I hold in as high regard as the great composers of centuries past.