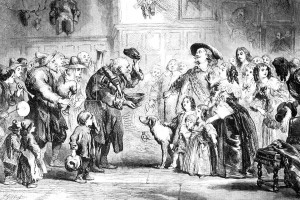 Wither's Carol
A festive new carol setting for choir and brass of a Yuletide poem by George Wither (1588–1667).
"a wonderful high-spirited work…
beautifully woven together…
one of my most favorite modern carols." George Vosburgh
Category: choral
Instrumentation: choir & instruments

SATB choir
2 trumpets, 2 trombones, horn, tuba
Status: complete, awaiting engraving
Duration: 4m 30s
Completed: November 2001
World Premiere: December 17, 2001
Upcoming Performances: n/a
Other Notable Performances:
Commission: Pittsburgh Bach Choir and the Pittsburgh Symphony Brass
Dedication: n/a
Additional Credits: n/a
Recordings:
Reviews:
Other Links: n/a
So now is come our joyful'st feast,
Let every one be jolly.
Each room with ivy leaves is drest,
And every post with holly.
Though some churls at our mirth repine,
Round your foreheads garlands twine,
Drown sorrow in a cup of wine,
And let us all be merry.

Now all our neighbour's chimneys smoke,
And Christmas blocks are burning.
Their ovens they with bak'dmeats choke,
And all their spits are turning.
Without the door let sorrow lie,
And if for cold it hap to die,
We'll bury it in a Christmas pie,
And evermore be merry.

Now ev'ry lad is wond'rous trim,
And no man minds his labor;
Our lasses have provided them
A bagpipe and a tabor.
The countryfolk themselves advance,
For crowdy-mutton's come out of France.
And Jack shall pipe, and Jill shall dance,
And all the town be merry.

The wenches with their wassail bowls,
About the streets are singing.
The boys are come to catch the owls
The wild mare in is bringing.
And those that hardly all the year
Had bread to eat or rags to wear,
Will have both clothes and dainty fare,
And all the day be merry.

Hark, how the wags abroad do call
Each other forth to rambling.
Anon you'll see them in the hall
For nuts and apples scrambling.
Hark, how the roof with laughters sound!
Anon they'll think the house goes round,
For they the cellar's depths have found,
And there they will be merry.

Then wherefore in these merry days
Should we, I pray, be duller?
No, let us sing some roundelays
To make our mirth the fuller.
And whilst thus inspired we sing,
Let all the streets with echoes ring,
Woods and hills and ev'rything
Bear witness we are merry!