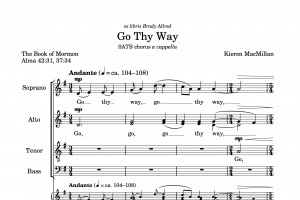 Go Thy Way
A Benediction
A short sacred benediction for a cappella choir.
"Such shall find rest to their souls…"
Category: choral
Instrumentation: SATB chorus, a cappella
Status: available
Duration: 2m
Completed: January 2011
World Premiere: March 25, 2012
Upcoming Performances: n/a
Other Notable Performances:
Commission: n/a
Dedication: ex libris Brady Allred
Additional Credits: n/a
Recordings: n/a
Reviews: n/a
Go thy way.
Declare the word with truth and soberness,
That thou may'st bring souls unto repentance,
That the great plan of mercy may have claim upon them.
Teach them to never be weary of good works,
But to be meek and lowly in heart.
For such shall find rest to their souls.