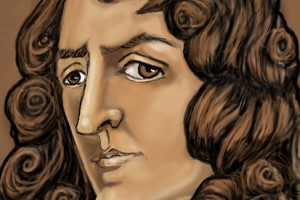 Fantasy Variations on a Theme by Charpentier
Fantasy Variations on a Theme by Charpentier
A theme and variations, encompassing a wide variety of compositional styles.
Category: instrumental
Instrumentation: two violins, cello & piano
Status: available
Duration: 19m
Completed: July 5, 2009
World Premiere: July 18, 2009
Upcoming Performances: n/a
Other Notable Performances:
Commission: Dr. Jonathan Swartz
Dedication: n/a
Additional Credits: n/a
Recordings:
Reviews: n/a
Other Links:
When Jonathan Swartz commissioned me to write a quartet for two violins, cello, and piano, stipulating only that it should "feature the two violins equally", my mind immediately went back almost eighteen years, to 1989 and the Interlochen Arts Camp. That summer, I accompanied Jonathan and another violinist in a performance of J.S. Bach's Concerto in D Minor for Two Violins, an experience I've never forgotten.

Although I considered adopting the form of Bach's masterpiece, I ultimately decided to write a theme and variations. It didn't take long to choose the perfect subject: Marc-Antoine Charpentier's exquisite Ritournelle from his cantata, In Nativitatem D.N.J.C. Canticum, a movement I've always greatly admired. The piece first presents Charpentier's theme in its original form, then freely varies the material in a set of eleven variations, concluding with a rondo-scherzo that further develops and recapitulates all of the music. The variations are grouped in a three-part arch structure (4-3-4), each part separated by a cadential break, while the variations within each part flow smoothly, one into the next. Like a Fantasy, the variations continuously reconsider Charpentier's theme, often discovering worlds unrecognizable from its baroque origins: Variation I turns the opening violin melody into a short rocking gesture that later evolves into an impressionistic cascade; Variation II gives prominence to a cello gesture taken from the middle of the theme; Variation III develops one of Charpentier's short canonic subjects into a pizzicato string accompaniment while the piano adds a rolled-chord melody drawn from a completely different part of the theme; and so on. The only clear unifying factor is that each variation borrows the ritournelle form of the original, with the two violins regularly switching parts to maintain equality and balance.

These Variations clearly reveal my eclectic musical influences: you're bound to hear Ravel, Prokofiev, Morricone, Mozart, Reich, Barber, Messaien, Adams, Sondheim, Harbison, Tchaikovsky, Saint-Saëns, and even the Funk Brothers. Of course, you'll also hear Bach — in perhaps the clearest and shortest homage — and Charpentier, from whose brilliant gem this whole piece emerged.